My mom has always been super into Medjugorje and her mother was as well, but we never got the chance to go until 2017. All you hear about Medjugorje is the miracles. I was looking for a miracle that first time.
We toured outside of Medjugorje as well. It was really nice to be a tourist, but this time I came as a pilgrim. I came for my own personal retreat and to really build my relationship with God so this one is definitely better.
When you get to Medjugorje, for me, it's just this peace that settles in. Throughout your whole trip, there's the same peace. I don't have the stress of the stuff that I do in my hometown. I'm just here in this moment, and it's great. No stress, just peace.
A few days ago, I was in Adoration. I'd never been to the night program. The last time, we never went. This was my first time, and we stayed for the hour of Adoration after.
I struggle a lot with Adoration because I just fall asleep, but this time was different. I was looking at Jesus and He was looking at me. That was all that mattered in that moment. Even though, there were a lot of people there, that was all that mattered.
Sometimes in my life, when I'm super sad, super down, I wish, I'm like, "I believe in the real presence. I believe that Jesus is in the Eucharist, but I just wish that He could hold my hand. I wish that He could give me a hug right now."
I know that He can't, but when I was sitting in Adoration, I was looking at the monstrance, and I was like, "That's good enough for me." I don't need that physical touch. Him a hundred yards away in the Eucharist, that's good enough for me. I think that's what I was meant to experience here.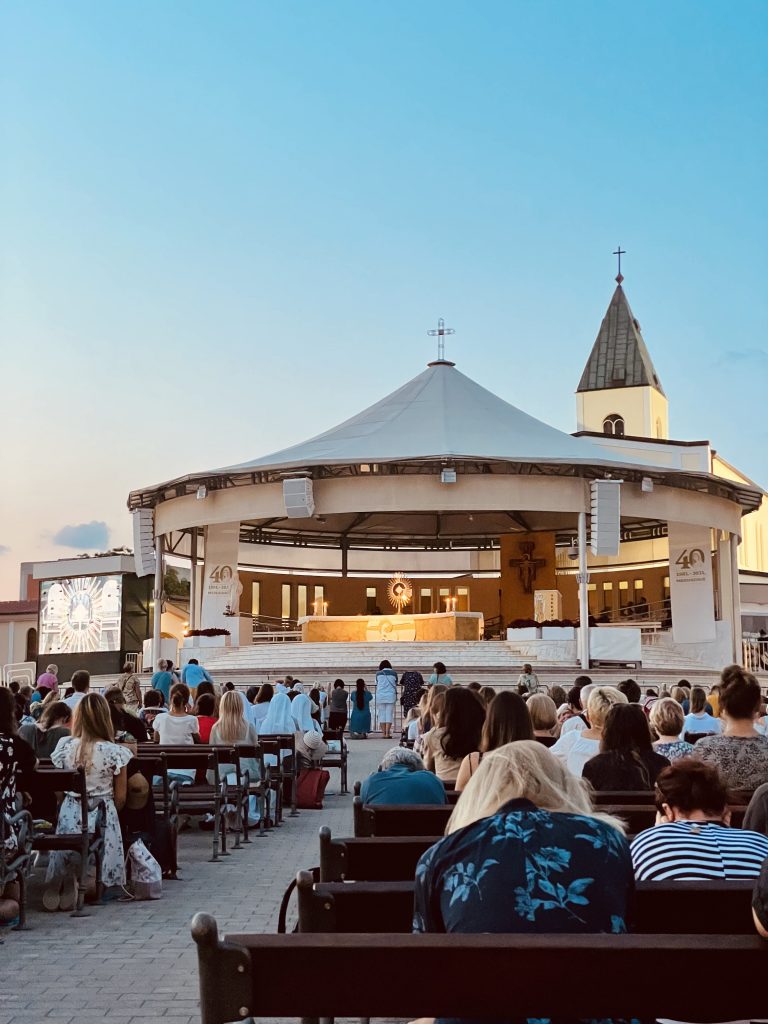 It's definitely a lot busier than the last time I went, which is a good thing. It was great to walk in the procession from Apparition Hill to St. James. There were so many people, honestly, it was incredible. I took a lot of pictures, and we prayed a lot.
We were all kind of pumped because everyone is carrying the morale, and everyone is so joyful and singing and praying, nothing like back at home. Sometimes you think that you're the only one, you're the only family that is practicing Catholicism and believes in Medjugorje and the Blessed Mother, but then, when you come here, you're not alone, that's for sure.
I would say, just come. There's a priest back at home that we told we were going to Medjugorje for the 40th Anniversary, and he didn't really know that much about it, but he was still pretty skeptical anyway. I'm like, "Just come."
At least come and experience the peace and the joy that everyone has here.