It was about 4 years ago when I first heard about Medjugorje, and it was just fascinating to me.
I was finishing up my undergrad, and I was planning on going to medical school. I went through undergrad–great, fine, good grades. Then I just decided that's no longer my passion. I did some soul-searching and realized that I don't want to put all that money and time and effort into something that I'm not fully passionate about.
I kind of had an examination of consciousness. What am I doing with my life? What's important? What really matters?
I was slightly depressed too. I started to dig back into my faith. I started going to confession. That was probably the biggest thing because I didn't go for like 7 or 8 years.
I don't think I ever fully believed Jesus was present in the Eucharist when I was younger. Then you read all this stuff about Eucharistic miracles and the saints and everything, and it's just enthralling. It wraps you in, all of it. I really started to get back into it all, and it brought me so much peace and happiness.
I like to do religious art. I didn't always like to do that. I liked art, but I started to do religious art, and it was pretty neat to see the way I could connect with people through my art. Sometimes you don't have the words, but it's what you do, your actions, and through my artwork I can get that emotion, make people feel that specialness about Jesus and the Catholic faith.
It was probably 2 years ago I really felt the call to come to Medjugorje. I started to look into it more, just reading about the visionaries and people's experiences. I've actually met some people back home who've been here. They just said, "It's amazing. It'll change your life. You can feel a different presence literally on your skin."
I don't necessarily feel it on my skin, but it's just peace here. It's just amazing. I can't describe the sense of peace here.
The first day we were here, we smelled roses in front of Saint James parish. It was so strong. It was incredible. We smelled it also up at Blue Cross. I was praying, then I really started to pray from the heart, and I got this puff of rose. It was really strong and then it was gone.
I think the biggest thing is the locals. It's special that we're here now during COVID and there's not a lot of tourists so you get to see a lot of the locals. Their faith is so strong, especially the young people. That's what's the most shocking. Back home, it's so hard to find faith friends and younger people that go to adoration, pray the Rosary, stuff like that. But here, you're seeing little kids praying the Rosary with their parents and it definitely strengthens your faith.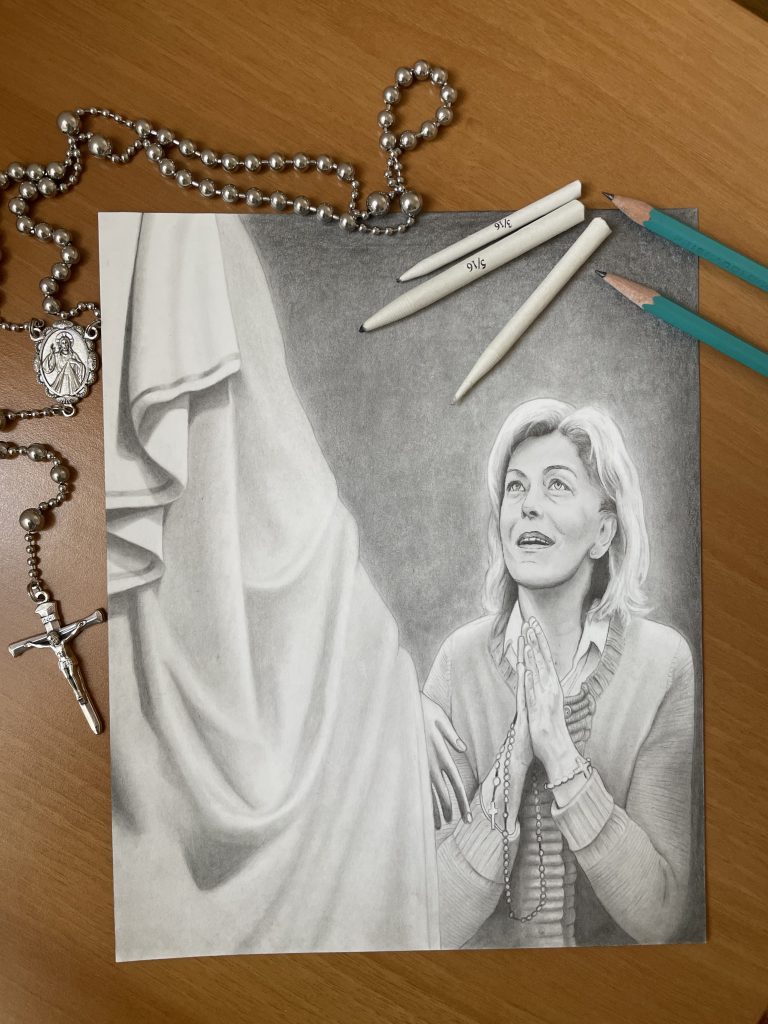 When I was younger, in CCD, you learn about the Church, the rules, the dogma. It's great and all, but I think what I was lacking was the supernatural, the miracles, which for younger kids, that's more fascinating to them.
And I always thought, "Where's God at now?" In the Bible, Gabriel was coming, the angels, all this crazy stuff was happening. I'm like, "Why isn't that happening today?" But, meanwhile, I didn't know Medjugorje was happening. It's years later you find out about this and it's completely incredible. He's at work here.
And so many people don't know about it. All the signs and wonders and conversions. It's just amazing. A special place. 
Read —> Part 2