"In the medical world, psych isn't overly valued. Psych is like you're taking the easy route. There's surgery and neuro and ER medicine, and I remember feeling like maybe I had something to prove so I was like, "I'm going to do something more than just psych when I graduate."
"So I went into family practice. I still saw a lot of psychiatric patients there, and I started to really feel a calling to go back to psych. This is what I have done for 20 years. I really feel like the Lord is like, "I need you there. That's where I need you."
So I went to Medjugorje. That was very heavily on my heart when I went there. I was praying very hard about a sign and what to do in terms of do I go back into psych or not.
I ended up going to confession with Father Leon, who I love. He was so good. I confessed something that I've already confessed multiple times and he was like, "The Lord is not an Indian giver. He doesn't forgive you and then take it back. You can't confess that any more. You are forgiven. You need to forgive yourself." I feel like that took a big weight off me.
For my penance, he had me pray for people who are suicidal. That's really weird. We had no talk about my background, no talk about psych. I'm like, "Is this real?"
I'm close with the other people so I said, "This is really personal, but can I just ask you if your penance is to pray for suicidal people?"
And they were like, "No." So no one around me had the same penance.
It just felt like a very strong sign to me.
When I came home, I took a new job, and I went back into psych. Two years later, here I was having my own psychiatric practice that's now completely booming.
The Blessed Mother just weaves the most beautiful stories. If you surrender and trust, you always find the answer, and you always end up where you're supposed to be. I know that I'm serving Her people, and this is my mission in this world. To take care of these lost and hurting souls. To help heal souls spiritually and emotionally. That's my mission.
I feel like the fruits of Medjugorje are so beautiful. And even years later, you're reaping the fruits of Medjugorje.
No yes has gone wasted. If you say yes to the Blessed Mother and the Lord, they are going to use you. Any yes they can get, they're like, "We're good, let's go."
I don't care what kind of sinner you are, how unworthy you think you are, if you're saying yes with an open heart, you are going to be used.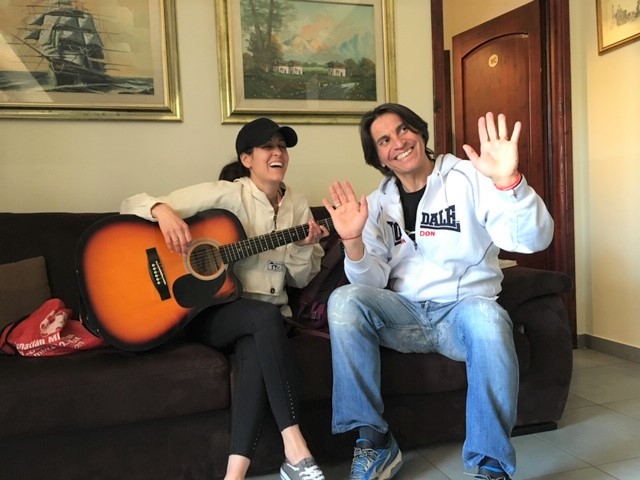 I think there's this roller coaster moment. You're on this high when you come home [from Medjugorje]. I feel like people need to prepare for coming off of that.

It lasted, for me, a really long time. It was the Easter season when we came home. It was April and it was beautiful. Lent was so beautiful, and everything was great.
I knew about fasting, but I never really experienced fasting. That was definitely something I feel like I got from Medjugorje. Understanding the importance of fasting.
I really fell in love with adoration in Medjugorje. I felt like that was a gift to my soul. I still go to adoration.
I try to fast. I'm not always good at it, but I'm back on the wagon. I think it's so hard, but I've seen firsthand how powerful it is. And they do it as a way of life in Medjugorje, which is so inspiring.
When they say it's a place heaven touches earth, it is. The way that you're going to feel the closest to heaven is in Medjugorje. Everything about it is comforting to your soul. It's just the most beautiful place on earth.
Medjugorje is the school of the Blessed Mother. You are a student when you're there under Her. It's the most amazing place that you get to say you graduated from. The graces you receive are incredible.
I remember a year later being in confession around Easter and kind of having a low. The season before I was in Medjugorje, and the priest was like, "You're having the comedown experience. It's like you had the mountaintop experience, and now you're having the comedown. You came down off the mountain."
I was like, "Well I need to go back. I am not enjoying the comedown experience."

When Mirjana talked to us, she said, "You are not here by accident. She called you here."
What a cool thing to think. The Blessed Mother hand picked me and called me to come to Medjugorje. That's overwhelming.

You can't go there and not want someone else to experience it. I wanted to bring every person I know there. And not everybody is open to it, but I want everybody to experience it. How can you not want to experience this?
I miss it so bad. I wish I could go back today. Right now. I wouldn't hesitate."