I've had papers to join the Franciscan friars, TOR, Third Order Regular. I've just been praying over those papers, and they've been in my desk at home. I thought coming here would be a good part of the discernment journey.
After being here, Father Pablo prayed over me a discernment prayer, and I felt a lot of joy. I was actually chuckling a little bit and trying not to laugh out loud too much. I think that was the Holy Spirit telling me that if you do choose this path, you'll find joy.
I'm still discerning now.
Father Pablo, even the whole way up to his ordination, he still had those doubts. But it's just about that leap of faith and if you can trust Jesus fully.
If you ask Our Lady, and you almost demand it. Have your Son show me what He wants.
I did that after he prayed that discernment prayer, and then I saw the miracle of the sun.
We were walking over to Mass, and I looked at my phone and said, "Oh it's 5:50. The Virgin Mary is appearing to Vicka right now. Look at the sun."
I looked up and I didn't really see anything so I looked back down. Then Kathy in our group, she's like, "Woah woah woah! Look look look!"
We all looked up and had focused on it. I could look at it perfectly and it turned into a host and the outer rim was spinning and then it was changing colors like it had a red glow around it. What's cool is, everybody did see different stuff. I saw a cross come out of it. My mom saw a chalice underneath it. Someone else saw a heart. But everybody saw at the same time when it would change a certain color. Me and my mom both said, "It's turning red. It's turning blue." So it wasn't like you were nuts. You weren't just seeing things. Other people saw it change colors at the same time. That was really profound.
I knew before we started the hike up Cross Mountain, I wanted to give my crosses to Jesus when I got up there. The whole time I was going through the Stations, I was thinking about the crosses I carry in my life. When I got up there, I just said, "Here you go, Jesus. I'm giving you my crosses." That doesn't mean they're gone, but just for Him to help me.
He'll help you carry it.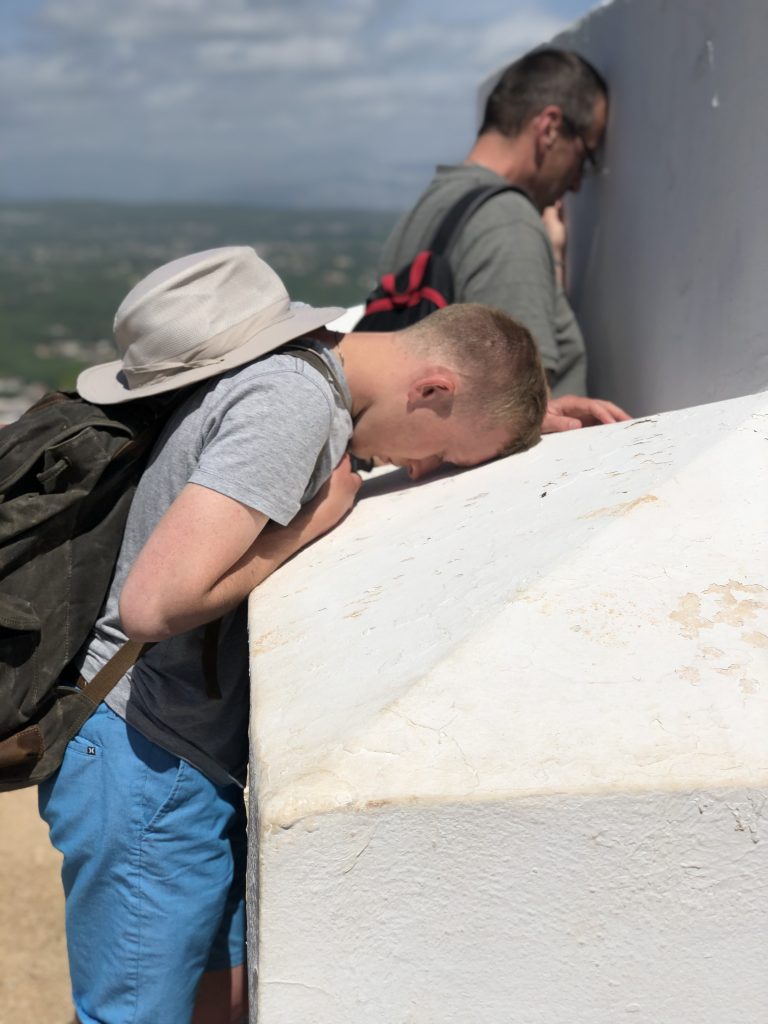 Father Leon's talk, that was also a highlight. I asked him what is the closest feeling he gets that compares to when he saw the Blessed Mother, and he said, "It's receiving the Eucharist." That's when you, one, believe it is Jesus, and two, you're pouring your heart out when you're receiving the Eucharist. Because anybody can go up and be like, "Amen." But it's if you really believe and you're accepting fully what it is.
He was just so calm, so humble. He experienced something so profound, so great, and he doesn't even tell the people he's closest to because he believes that it's not about shouting to everybody, "Hey! This happened to me!" It's living the message, showing people how you live that you can convert somebody and show them that you really believe in something, rather than being almost like a fanatic.
I read a message of Our Lady, and She said something like, "You will find me in the wind", and that just popped into my mind when he was speaking about Her because the wind was blowing.
"The wind is my sign. I will come in the wind. When the wind blows, know that I am with you. You have learned that the Cross represents Christ; it is a sign of Him. It is the same for the crucifix you have in your home. For me, it is not the same. When it is cold, you come to church, you want to offer everything to God. I am, then, with you. I am with you in the wind. Do not be afraid."

Our Lady's message to the visionaries in Medjugorje on February 15, 1984