The first time I came to Medjugorje was in 2006.
I was able to go into Marija's apparition. It was incredible to be there. It was so peaceful. She has a small chapel, maybe about 30 people in the chapel. So much peace came over me during the apparition.
On the day of the June 25th Anniversary Mass, there were tens of thousands of people there.
I went at about 4 o'clock to hear confessions. It was packed. A Franciscan brother said, "Father, actually all the spots are taken. How about you go in and get ready for the Mass?"
So I went into the sacristy, got ready, and came out. Then I saw a Franciscan father who said, "Father would you like to pray the Fifth Glorious Mystery of the Rosary?"
I got so nervous. It was in front of tens of thousands of people, and it was the last Mystery before the Mass, the big Anniversary Mass. I said to myself, "What if I forget how to say the Hail Mary?"
My turn came. I led the Our Father, then ten Hail Marys, and after the Glory Be I went back to my place. My heart was beating so fast, and all I could think of was, "My soul proclaims the greatness of the Lord; my spirit rejoices in God my savior."
Later on, as I was thinking about it, it occurred to me that if I had been hearing confessions at the time, then I wouldn't have had this opportunity. I could see how Mother Mary's hand was leading everything.
I think it's so beautiful that Medjugorje is so Christ centered, so Eucharist centered.
It's so inspiring to see all the confessions.
As a priest, it deepened my relationship with Mother Mary. I'm much closer to Her because of Medjugorje. I'm able to go back home and bring Her to my people. 
I think it's important to get away from everything. Sometimes we can get caught up in our work, caught up in our duties, but getting away from everything helps us to be renewed, helps us to gain a better perspective of things, and helps us to be able to encounter Our Lord and Our Lady in a different way than everyday life.
It's important that people come to Medjugorje with an open heart and without fixed expectations. Even if it's your second or third time, come with an open heart.
Every pilgrimage is unique. Every time you come is unique. If you come with an open heart, you will not be disappointed because Mother Mary has gifts in store for you.
This pilgrimage has been a wonderful and blessed experience. For a while, we didn't know whether we were going to come. With all that's going on in our country and our world, people were uncertain. Slowly, the numbers came together.
As with any pilgrimage, the group became like a family. It was a great blessing to be a spiritual director for this pilgrimage. I'm really thankful for it.
It's nice to have a small group of my parishioners here with me. At least I'm not bringing Medjugorje back to my parish by myself. We hope to do a presentation on Medjugorje after we get back so that others can come to understand more about Medjugorje.
Hopefully we will be able to bring the peace that we've been gifted here. We hope to bring peace back to the parish, to the hearts of the parishioners.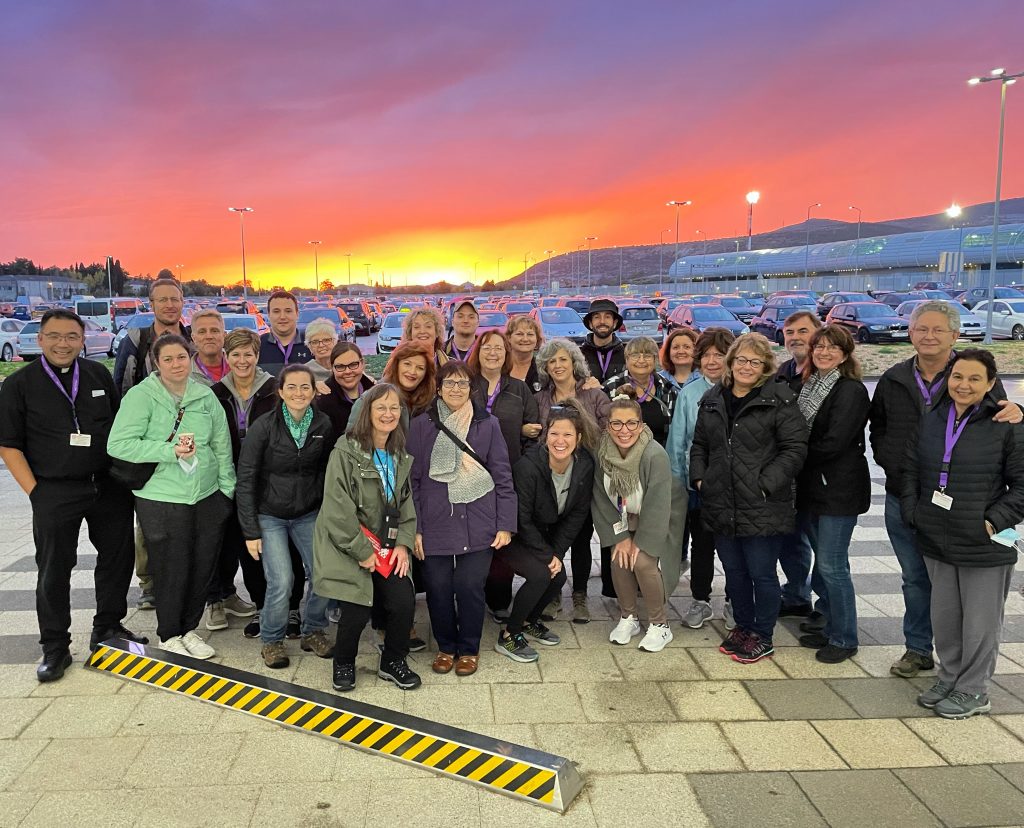 Reflection questions by Fr. Damien for those who have been to Medjugorje:
Remember, our Blessed Mother called YOU to Medjugorje. You said Yes to her invitation. She has something in mind for you.
Take the time to reflect on a few questions and write the answers down in your journal.
Write down key moments of grace or highlights that you experienced. Then, bring these key moments of grace or highlights into your daily prayer. Allow Our Lord and our Mother Mary to take you deeper and deeper into what they revealed to you.
How will life be different now that you have returned from Medjugorje?
What changes are Jesus and our Mother Mary calling you to make?
Are there some specific things that you feel our Blessed Mother or Our Lord is inviting you to change in your life? (Remember, we can't change others. Neither can we fix ourselves. Invite Our Lord and our Mother Mary into any change. Ask them for the grace.) Don't try to make too many changes all at once.
How will you implement the five stones of Medjugorje in your life? (Praying with the Heart, attending Holy Mass, going to Confession, Fasting, and Reading Scripture) Which of the five stones do you think you need God's help with the most?
Bring Medjugorje into your life, your family, your relationships, your friendships, etc.