Joseph – Sydney, Australia
My mother was actually a Japanese religion, Shinto or Buddhism. She wasn't Catholic. She was invited to go to Medjugorje by someone and she came here then BOOM she became Catholic.
I'm Catholic. I didn't really believe in Medjugorje, but someone said to me, "If you're ever going to find out whether it's true or false, go with your heart open and see what happens." I went in with an open heart, but initially I was a bit skeptical.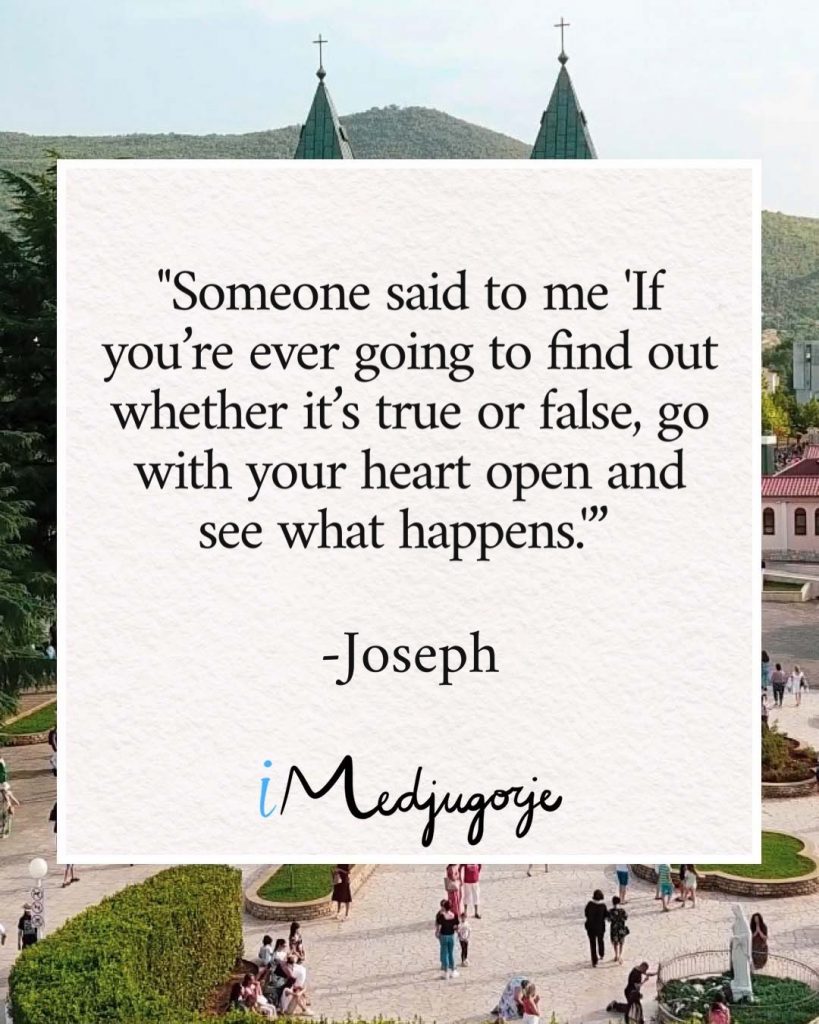 My first experience was like, "No, this is dumb. What the hell am I doing in a little village?" For the first five days, I was like a little lost puppy. Slowly, it took a bit of time to adapt.
By the eighth day, I found out that this place is very special. I felt a very deep sense of peace that just hangs in the air and overshadows this whole town. By consequence, everything that is in that town has that same peace. For some reason, everything always works out. Small things just fit into place.
For example, I was kneeling down praying in front of the Blessed Sacrament. I came alone. I was just sitting there praying, and I thought to myself, "Wouldn't it be good if there were some other people here my age?" It was just a thought. It wasn't even a request. I thought, "Should I ask Our Lady for that? No, She's already got too many things on Her mind."
As soon as I had that sliver of a thought, some guy tapped me on the shoulder and said, "Where are you from?" I was like, "Australia." He said, "What are you doing tonight? Do you want to come have dinner with us?" To my amazement, I was like, "Sure." I found out that there were about 15 amazing, energetic young Irish people. God bless the Irish. I ended up just chilling out with them. For me, that was a small thing that Our Lady did. I was so grateful for that because I never really asked Our Lady for that. I felt like She knew what I wanted before I even asked for it. Lesson learned. Go with a group.
I've always been Catholic, and I would pray the Rosary. I've got four sisters and they say that before I came to Medjugorje, I would just say the words, but they were like, "When you came back from Medjugorje, something happened. You came back and you were actually praying. You would actually mean what you were saying."
This is my second time in Medjugorje.
I was a seminarian. I left the seminary. I started first year at the beginning of the year and did one semester then I felt like God wasn't calling me there. When you come out of the seminary, when you come out of any sort of discernment vocation process, you're going to feel a bit lost. You're going to feel a bit like you want answers, you want clarity. I told my priest friend I left seminary. He said, "God bless you. I'm going to Medjugorje on the 8th." I looked at my calendar and that was three weeks away. I said, "I'll come."
It happened very quickly. I'm very glad I'm here.
I've already been here. I already know what's going to happen. You come with an expectation that you're going to have some peace. You come with the experience, at least for me, that the first couple of days are going to be difficult because you're going to have to get used to the process here, and the devil is going to fight very hard because he doesn't want you here.
I'm in that stage right now. I'm wrestling, but eventually you fall into this peace. It's all about opening your heart and finding recourse in prayer. Our heart is always empty and we try to fill it with things like socializing, drinking, going out, filling it to distract ourselves so that we can always be occupied with something. We live in such a noisy world. It does take time to unwind from that.
When I have free time I say a Rosary or go for a walk or sit somewhere and just be with Our Lady. That's the moment you get the most grace from. Those are the times you get that peace.
Mary has played a very big role in my life now. When I pray now, I ask Her, "Look, Our Lady, I need peace," especially if I'm going through something hard in life, as we all do. I'll say, "Can you give me a little bit of peace like you gave me when I went to Medjugorje?" I always use this as the cornerstone in a sense. When you're feeling low, you go to the Rosary, you go to Our Lady because She's Our Mother.
It's made a big impact on my life. The way that I look at Our Lady has changed. I feel very blessed.
From Australia, the trip is about 35 hours of flying. If you're wondering whether you should do it or not, just do it. Spend a bit of time here. You're going to struggle for the first week maybe, but Our Lady sees that and She will reward you in some way or another. You'll see the fruit of it somewhere. You will come away with something definitely.