TheaMarie: I was raised in the Methodist church, and we went on Sundays and holidays, but it wasn't integrated into who we are.
Then, my brother decided to go to a Catholic middle school and high school which was out of the ordinary for our family. We followed suit so I went to a Catholic high school. I was very skeptical of the Catholic faith. I had a lot of questions.
Benjamin: Every day of the week we had adoration during lunch hour at our high school.
TheaMarie: The second half of freshman year, Ben was going in over the lunch period and not eating lunch but going to spend time in adoration. I didn't understand adoration at that time. I was like, "First of all, who is this man? Second of all, why is he going and looking at this piece of bread? What is more important than fueling your body?"
I continued to ask questions, continued to go to Catholic events, talk with our friends, and then adoration became, "I need to just go sit with Jesus."
Once I understood that I have a Heavenly Father that loves me unconditionally, nothing else mattered. I knew. One moment it was just like, "Yes. This is the truth. This is what I am made for. My heart was made to believe this, to understand it but not understand it because that's our faith."
There were a lot of heart movements. Jesus just captivated my heart and worked through Ben.
Benjamin: During those adoration hours I would try to pray a Rosary. Thea was one of my intentions of my Rosary from freshman year on through the rest of high school.
During the Rosary, I had an intention for all my family members and then for all my friends in high school, which Thea was until we started dating.
I did fasting on the first Wednesday of every month for my future vocation, whether that be priesthood or marriage, then if it was marriage, for my future spouse.
I did a consecration to Mary in high school with a lot of my classmates. When you do that, Mary takes the graces that you get and She distributes them where they need to go. I'm sure that Thea was one of the places that the graces needed to go.
TheaMarie: Yes. Most definitely. Thank you.
Senior year of high school, I started a 54 day Rosary novena to figure out where I was going to go to school. I wasn't feeling very much clarity. It was the last day. I went to Mass. I said, "Okay, Mary. This is it. You're going to just tell me where I'm supposed to go to school."
No. That's not how it works. Of course, my humanness was like, "What the heck?" I was sad, but also proud. I had walked with Mary for 54 days very intentionally. Walking out of the church I was feeling a little more restless because I didn't get the answer that I expected.
Someone came up to me that I had never seen and handed me a rosary and said, "Mary wants you to have this."
It was a rosary from Medjugorje.
That was seven years ago. It was a very intentional call out, but I just hid it away.
Benjamin: We were all ready to go to Rome, and then we weren't able to go to Rome anymore. So we were like, "Well, we have the time off for work. What are we going to do?"
One night, Thea was just like, "Let's go to Medjugorje!"
TheaMarie: She called us here at this time.
Benjamin: We've been married for three years.
TheaMarie: We have infertility, and it's been three years of trying.
It's been one of our intentions coming here, but our prayer at the beginning was, "We want to get pregnant. We want to start a family." Now, our prayer has changed to, "How can we be fruitful for the Church, and how can we be fruitful as a married couple?"
That doesn't come without suffering. I've continued to draw closer to Mary in that, knowing that She's also Our Lady of Sorrows, and She lost a Son, and there's a loss of what you thought would be.
I trust Mary is going to reveal to us whatever we're supposed to receive from this.
In Mary's way, She has reminded me so beautifully to always turn to Jesus. Everywhere I have gone, it's been about bringing me back to the Father and bringing me back to how Jesus loves us so deeply. Every day has been a new grace.
I came with no expectations. There's a beauty in not having expectations because I've been able to receive each moment as a gift, and I know that's how Mary lives.
Benjamin: The more I think about it, the happier I am with the experience that I've had.
I was expecting almost a worship of Mary when we got here. Being here, I've noticed it's, "Go to My Son. Go to confession. Go to Mass. Go to adoration."
I'm happy it's that way because I think if it was anything else it would be a conflict in my mind. If it's truly Mary, Her greatest joy would be pointing back to Her Son. It's very evident that's what She's doing here.
I really enjoyed the climb up Cross Mountain, stopping at each Station, and hearing our guide, Miki's reflections on each Station. It was my highlight, getting to the top, overlooking the village, and seeing the beauty and the stillness.
TheaMarie: My highlight was today. We got up at 5:15 and climbed Apparition Hill and were up there for the sunrise, spending time both at the foot of Mary and the foot of the cross up there. The stillness and letting God speak in the silence.
Being outside for Mass and being part of a community of believers. It's so real. The International Mass felt like heaven on earth. I was thinking about God the Father looking down and rejoicing.
It's easy. You're home.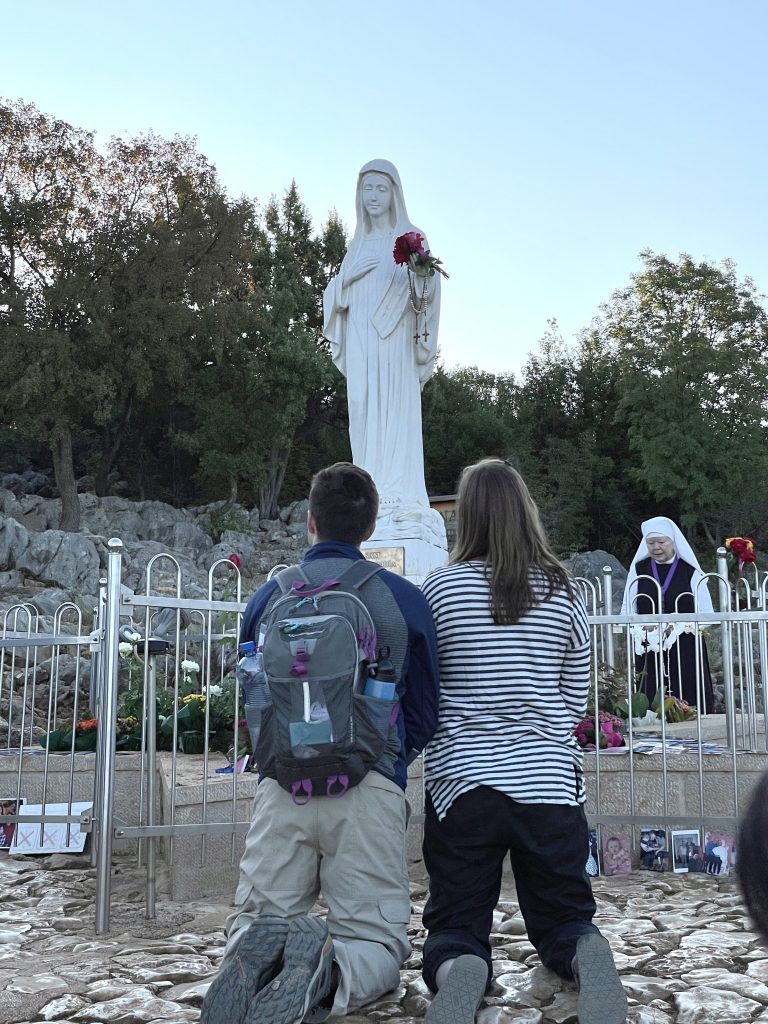 Benjamin: Going on this trip, we didn't know anyone. Leaving this trip, it's hard to imagine we didn't know the people that we're with now. We're laughing every night. It feels like we've known each other for a long time. 
We're really grateful for all the people we've met.
TheaMarie: In today's world, there's a lot of mistrust and there isn't a sense of peace. There's a lot of tension. Medjugorje is a place to enter into what it means to be who you are as a son and daughter of a God who loves us unconditionally.
Benjamin: It's too many things to do in one week so we're running on very little sleep.
TheaMarie: We're running on grace.
Benjamin: And like four cups of coffee.