Maisie: Back in February, I remember Peter started looking super pale. I was concerned about him but didn't say too much about it. He was like, "I just haven't been eating as much." He was losing a lot of weight.
Then in June, I was like, "You've got to go get some blood work done before you go. Something doesn't look right with you."
He went to get some bloodwork done. The doctor called him when he was in Wisconsin so they're in their camper. He said, "Peter, your D-dimer is off the charts." That measures tumors and if you have clots.
Peter: They did two X-rays and then a CT scan. They could see a tumor. They were a smaller hospital so they weren't equipped to handle it.
Maisie: So they sent him over to the Sacred Heart of Jesus Hospital. It was on the feast day of the Sacred Heart of Jesus.
Peter: She told me that. I had no clue.
Maisie: It was also on the 24th of June, which is when the actual first apparition happened in Medjugorje.
Then we see this giant tumor that's in the shape of a mylar balloon heart.
I'm just like, "Peter, God is doing something here."
Peter: They already did four rounds of intense chemo, and it did not shrink very much. We don't know if it's dead or if it's—
Maisie: We don't know if it's necrotic tissue. We don't know if there's cancer in there.
I said, "Peter, let's start praying to Our Lady. Let's start watching Medjugorje films." I knew Our Lady was comforting for him, and I could tell he was going into a depression.
I started sending him Artie Boyle's story. Artie had a miraculous healing.
We watched Apparition Hill which he hadn't seen, and of course my little boy is in it.
Peter: After that, we were at her house, and I got in our vehicle with my wife and I just started sobbing. It hit me. I have two kids, but they're both adults. I was like, "I'm going to lose my family."
It became very real. I just surrendered at that point.
Maisie: This all happened very quickly. It was the Feast of the Sacred Heart, and then he started having chemo at the end of July. Now [in October], here we are in Medjugorje.
He finally said, "I really want to go to Medjugorje with you guys."
I was like, "Let's do it."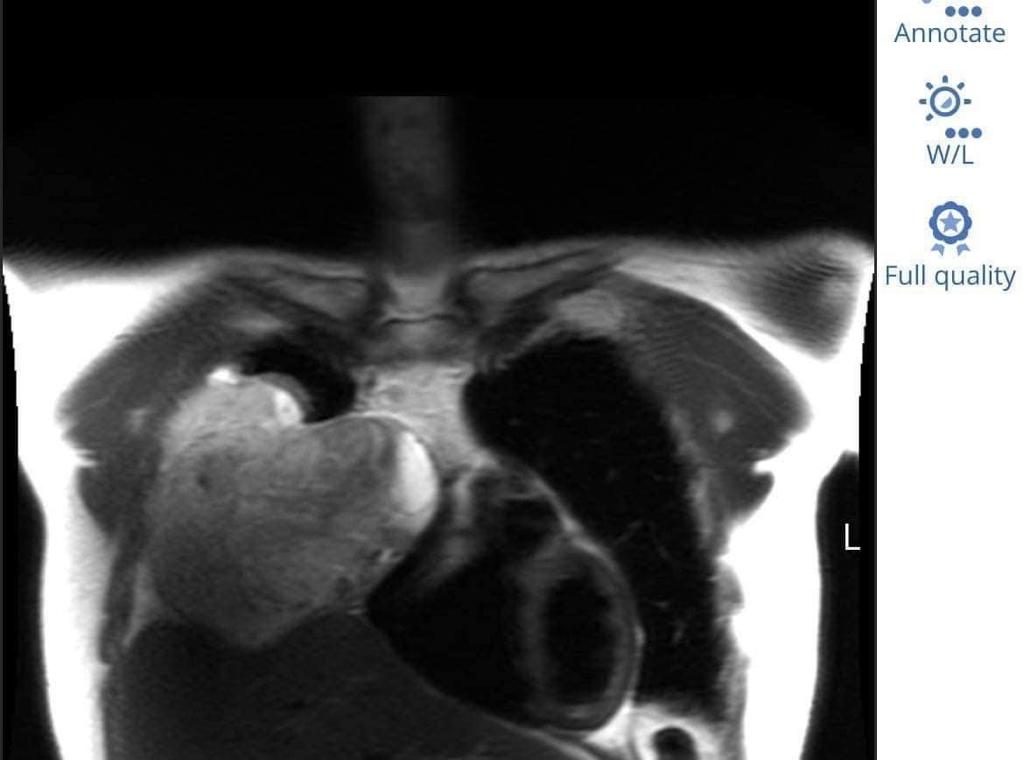 Interviewer: What did you think when you saw your scan? Did you see anything in it?
Peter: Not initially. I just thought, "That's really big."
It doesn't look real.
We'll see what happens. I have to get a scan when we go back to see if it's still cancerous. They can do surgery. It's kind of like open-heart surgery.
I feel good now. I'm kind of at a standstill right now.
For me, this trip is just spiritual. I'm not asking for a healing or anything like that. I just want to be in a peaceful place right now.
I think the diagnosis brought me closer to God, ever since I surrendered to God. I figured, if I'm going to go, I want to be in the right place. I hadn't been to church in years. It brought me back to the Church, brought me to confession. I feel really good now. Whatever happens, I'm ready.
It's brought my wife and I closer together. She's traditionally Lutheran. She's gone to the Catholic Church with me. I think it's probably brought her closer too.
It's been more hurtful to my family. They can see that there's that chance. I think they need to be in that same place where, "If he's going to go, it's not our fault." I'm praying for peace for them too.
Update from Peter on Easter 2023: "As of now I am cancer free and my heart has been opened to the Catholic Church in a profound way. I am forever blessed."