I have been here 13 times. My first time was back in 1983. I went with the family that made the first film (Stanley and Marge Karminski). They produced the first film on a tape. They had been praying and wanted a priest to go with them.
I said, "Medji-what Medji-who…Medjugorje." And I agreed.
When I came here in '83, it was only other Croatian people. There were 8 in our group. The Franciscans had invited me to concelebrate the mass. Two of the visionaries took me by the hand and led me across the sanctuary to where they were seeing the blessed mother. Apparently they heard the American priest was here and that was a novelty. That was about a year after the visions started.
What was I thinking when I went into that room? I didn't know what was happening when I went in. Who were these girls? I didn't know who they were. They didn't have a "V" on their forehead for "visionary." So I went in and the room was full with Croatian people and they were all praying the rosary. A crucifix on the wall. I just joined them praying the rosary. I had no idea the visitations would start right there. Then all of a sudden they said the word for She's here. They dropped down like a trap door opened up beneath them. That shook me up. Then it hit me. This must be where they see the Blessed Mother. There was 5 of them at the time, I am not sure who was not there. I was watching them, each of the young ones.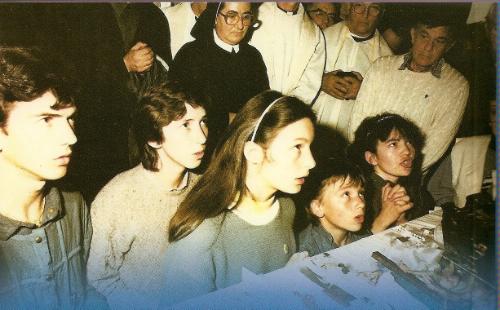 I saw Medjugorje at that time was just nothing. Literally dirt poor. No indoor plumbing near the church. I met a couple of Franciscan priests. Met Fr. Jozo and he brought me out to sit with the visionaries at a talk where he was still finding out what was happening. It was still overwhelming to me.
It was time for us to come back. Word got out in my home area in New Jersey and Pennsylvania. "He's been to Medjugorje." I was a pastor of an inner city in Chester, Pennsylvania. People are starting to call me. Priest kept calling me if I could come talk to the people. I felt very uncomfortable with that because I didn't really understand it myself. I didn't know about the messages. I began to learn about that. Even in diners I went to, over crowded people. Finally I couldn't do it anymore. I felt inadequate. I didn't know the whole story. But then I began to read about it and began to fill in the pieces. Through the years I would lead people here. One group was about 140 people, about 3 buses. They were from the archdiocese of Philadelphia. 13 pilgrimages and here I am.
Fr. John McFadden's Pro-life ministry:
Very early on, I was led to the much involved pro-life ministry. I prayed in front of Planned Parenthood with another priest. In time, I became more and more involved in learning and what is abortion. As that began to really build in me, I felt the Lord saying I had to be really involved. I started going out of Pennsylvania up to Vermont.
We had a group of people who would do what is called a "rescue." They would sit in front of the doors of Planned Parenthood. The first group in the state of Pennsylvania were going to do this, right in my parish area. They appealed to me to come and say mass for the group that would do it. This has never happened in Pennsylvania.
I was saying the mass and during the time of Holy Communion. I got a word to go with them. I resisted that word. I didn't want to get arrested. I thought I was just fantasizing. But it wouldn't leave me alone. All together there were about 60 people. As I came across the street where the babies would be killed… At that time we just walk right in. It was a terrible feeling because of death. These women were lined up and we tried to talk to them. Several did leave. The last person they expected to see was a priest right in there.
Eventually the police came. The one policeman escorting me to his squad car. He said "Father, I can't arrest you. Why don't you just pull away from here and go back." and I said, "I am going where the other guys are going."
We saved a couple of babies and their mothers on that first visit. It became a vocation for me to support pro-life people. Just this last Saturday, before I came we were at 40 Days For Life and I gave a talk. 40 straight days, someone will be there day and night in front of the center.
This one fellow who had a conscious about this. He worked with this center that would take the babies, these big cans of babies that had been aborted. These babies were all in these little clear sandwich bags. And there were names on them, last names too. This guy, had a conscious for this. This is up in Connecticut. He called friends of mine and said I don't know what to do. The guy said we'll come up. They had a couple of trucks. Then they called me and said "Many of these babies, over 500 of them are from the Philly area. Can you help us give them a decent burial and pray over them? I said, I sure will. I called a couple of priests and we had a nice mass. The funeral directors were wonderful with setting this up with a couple of small caskets. And so we had a meaningful liturgy and blessings for the babies and for their mothers and fathers. We would go back every national Memorial Day for aborted children. That's now for 21 years we've been going back. We have mass first, then we go back to the cemetery. Usually about 80 people. We have that liturgy. Certain things are pretty clear that the Lord needs you to do, even though you think, "I am busy enough" or "I am not that courageous" but it became a ministry.