It's a place that I have been trying to come to for years.
Medjugorje is heavenly, beautiful, so spiritual, peaceful. I'm so blessed to be here. There's so much in my heart to know that we're actually here where our Mother is appearing. I'm so grateful.
It's more than I ever expected, the inner peace, the stories, meeting Mirjana, the people here.
Mirjana is one of the kindest people. I'm in awe of her, of how she serves us in the kitchen. Like she said, it's not about her, it's about Our Blessed Mother, and I know Our Blessed Mother would serve us the same way. She's a beautiful soul.
We were going to Apparition Hill early this morning. I put on my pair of tennis shoes, and I don't think I listened to God because in the room, I was actually slipping a little bit with them. The thought crossed my mind that I don't have the grip with these tennis shoes, but I said, "Well it's rocky so hopefully these shoes are going to be okay."
Then, as we were going up the street, before we got to Apparition Hill, I just slipped. I tried to break my fall with my hands. Thank God I didn't break anything.
I was like, "What am I going to do? We haven't even gotten to Apparition Hill, and I'm sliding with these tennis shoes."
And God sent me his angel through Amber.
Right away, she offered. She asked me which size shoe, and I was smaller than her. I'm not sure who the lady with her was, but she was more my size so the lady took Amber's shoes, and the lady gave me her shoes.
And Amber did the walk with no shoes on.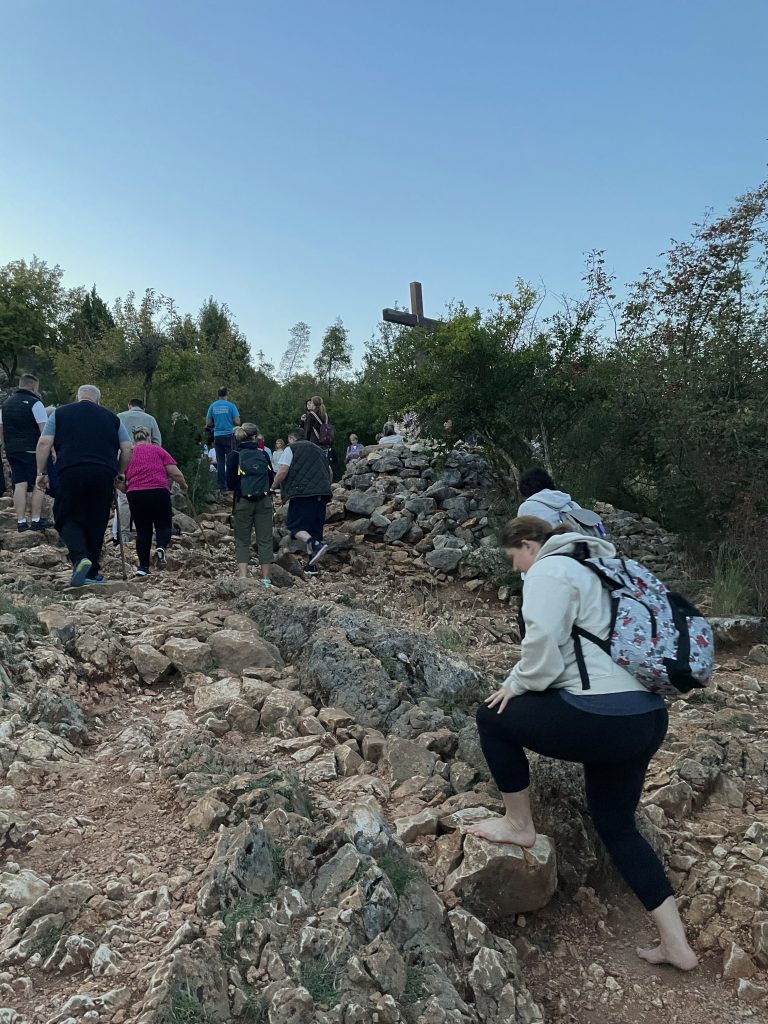 I just recently met a lineman from the hurricanes we just had that put electricity back. We fed the lineman a lunch. He's a very Christian man, and he said, "In order for us to receive our blessings, we have to have to accept the blessings and graces someone else is doing for us."
With Amber, I looked at that as that. In order for her to be blessed, I needed to accept that she was going to go barefoot and not take whatever the pain is and the hardship and give me the comfort of the shoes.
My spirit was full. I got to up up the hill with no problems. I didn't hurt or anything from the fall. I was just grateful.
On the climb, I did pretty good. With the shoes, I did fine. It was beautiful. It was well worth it to get to the top where the Blessed Mother appeared.
I cried. My spirit was full. I just felt so blessed to be in the very area that She appeared to the visionaries. I was just so grateful because it was something I had been wanting to do for years, and I was finally there.
I sat back, and I did a Divine Mercy for all those struggling, for my petitions.
I'm somebody that I never get enough so I want to just stay. I was trying to take it all in, but I knew I had to leave eventually, but just enjoy the moment. I was so much at peace.
Something that has touched me about Medjugorje is that it's happening in our time. With the daily apparitions, we have the opportunity to be in a place that She is appearing. That is such an awesome experience. I'm so so grateful that Her Son allowed me to come and She allowed me to come.
The most humbling and spiritual experience was Our Lord's Adoration here, outdoor Adoration for an hour. I'm lost for words because it was so filling in the heart. It was so peaceful. I was so grateful to be there and just adore Our Lord for an hour. That, I have to say, was the highlight of this spiritual Medjugorje trip.